You'll find new feature or improvement announcements here
24.08.2022 - Email notification when survey ends and its data is available
You may wish to inform all those with access to the survey that it has ended and the data is now available. This can be done by the system automatically, all you have to do is activate the feature!
You can read all about it here.
18.08.2022 - Removal of survey creators
Our survey creator permissions have been updated: If a user who wouldn't usually have access to a particular survey (according to our permission system) creates one, they will be added in the Permission section of the survey editor and can later be removed.
25.07.2022 - Limit access to results until the survey has closed
People's opinions can be influenced by the general trend of results already collected, so to avoid this happening, admins can now prevent report viewers (who haven't been granted access to all surveys and results) from seeing the data ahead of time.
More details can be found here.
16.05.2022 - Trend Chart
A dashboard can quickly become crowded if you want to run a lot of different charts and evaluations on different employee attributes. In order to quickly get an overview of all results of a survey and the associated distributions of the results, it is now possible to create a trend dashboard chart. In addition to the overview of all result distributions, it is possible to compare results across three survey periods.

The chart can be created using the Bar chart and Split by question and period option.

You can find more information about the new chart here.
16.05.2022 - Height adjustment of charts
In the case of very long charts, a scroll bar was previously displayed so that all charts had a fixed height. This can now be freely determined by the user, so that charts can also be displayed in their full height immediately.
09.05.2022 - End of support for Internet Explorer 11
Last year, Microsoft stopped supporting the Internet Explorer 11 browser for its MS Teams and Office 365 applications. We ourselves have seen a decrease in views using the Internet Explorer 11 browser since then. Furthermore, the support of Internet Explorer 11 makes testing and adding new features to the application much more complex. In order to be able to provide you with new features and improvements as quickly as possible in the future, we are ending support for Internet Explorer 11 as of today.
16.03.2022 - Survey activity log
When more than one admin or manager works on setting up a survey coordinating the changes to the survey can be tricky.
To make it easier for employees working on the same surveys you can now see in the survey activity log which employee made which change.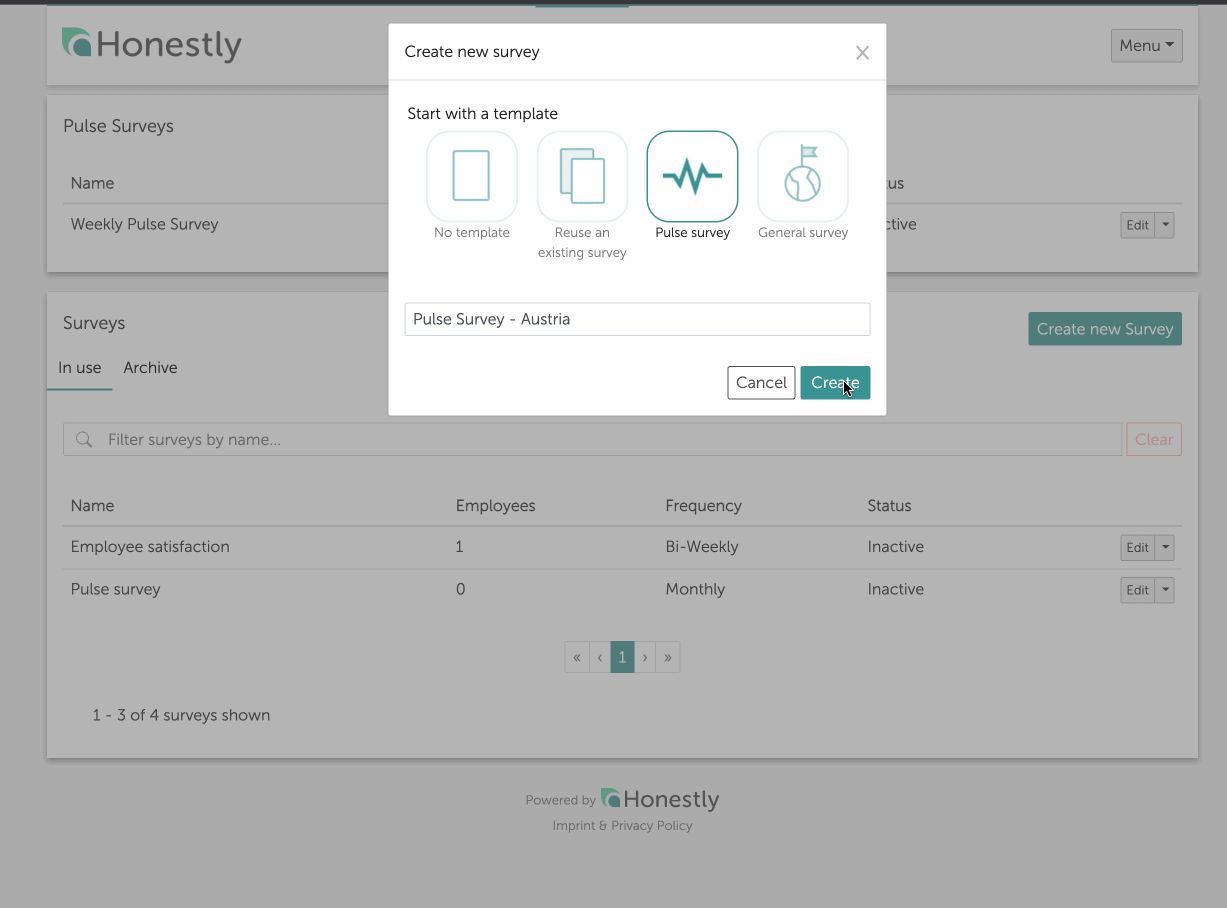 03.03.2022 - Status information of integrations
When using integrations like our Personio integration, it was not clear when the import of the integration last ran and if there were any errors. We now show this information on the integration page. By clicking on 'Details' you can then also see the specific errors that happened while the integration sync ran.
That way, you are able to find out if everything runs smoothly and pinpoint any errors.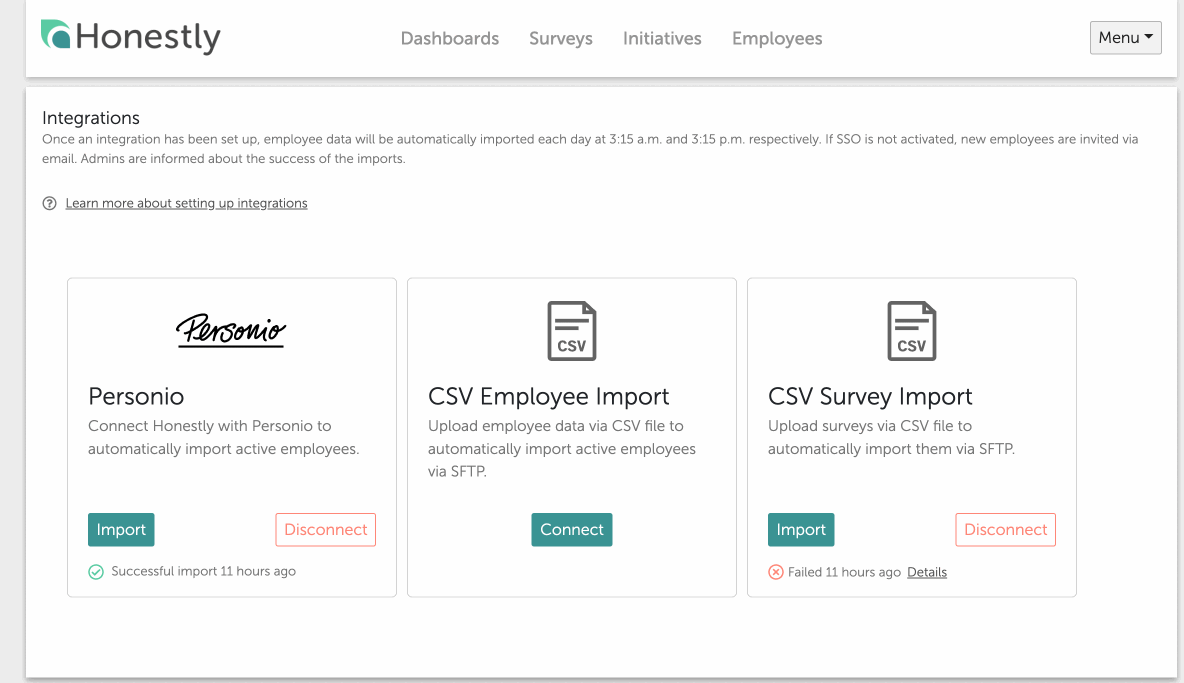 14.02.2022 - Suggest improvements and request features
You can now suggest to us improvement and request features directly through a link in the application. By sharing your thoughts on what is missing, how can we improve and why the feature is important to you, you help us improve our product overall and make the right decision while prioritizing.
Find more details about the process here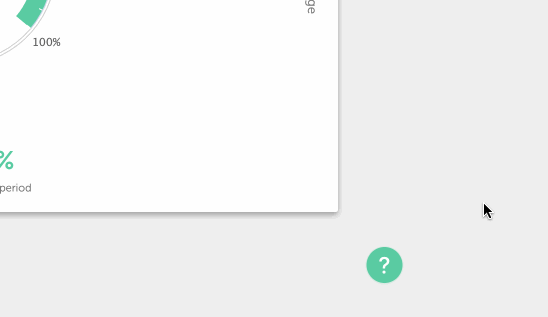 31.01.2022 - Improved dashboard selector
You may have noticed that getting to the right dashboard when you have created many of them can get complicated.
To make it easier, the dashboard selector has now changed. The old version has been replaced with a drop-down list that divides dashboards into your "favorites" and "Other dashboards". All dashboards are sorted alphabetically. It's now also easier to mark a dashboard as your favorite too. Just click on the star icon to make it one of your favorites.
With these improvements it's very easy to jump to the results that really interest you. With the updated favorite functionality you are able to keep the dashboards that you most often need at the top of the list.
The component also remembers the last visited dashboard and reopens it when you come back.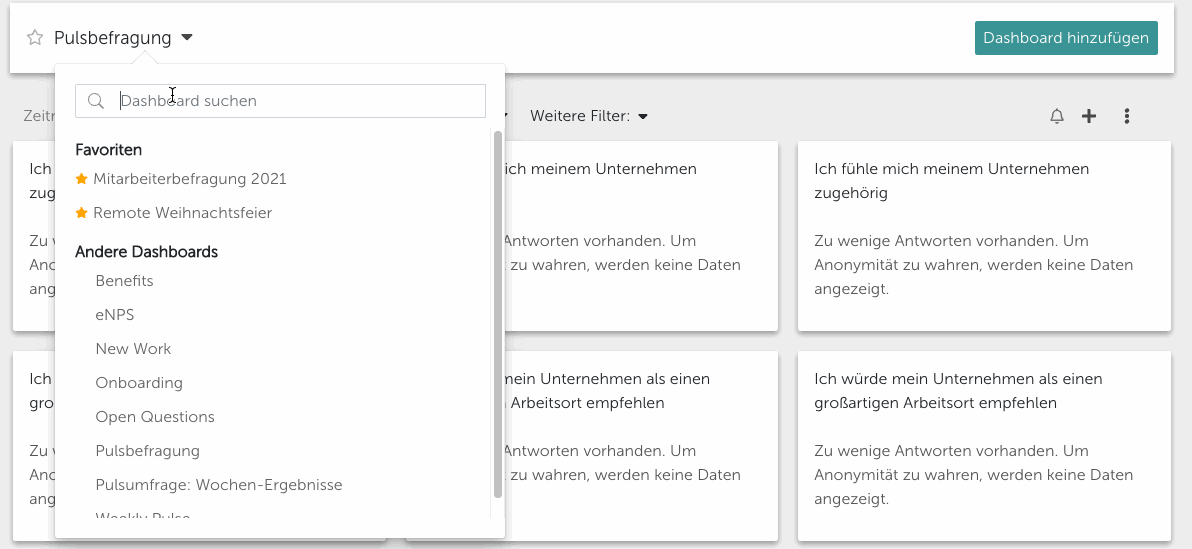 20.01.2022 - New dedicated Export page - along with the dashboards, it's replacing the Analysis page.

We have improved the raw data export that allows you to export all survey response data. Furthermore, we have improved the file name, creation speed and removed irrelevant columns.
The new Export page and the existing dashboards replace the Analysis page in functionality. This has now been disabled completely. You'll find the export functionality that was there on the new Export page now. Similar functionality that was available in the Analysis page is available through the dashboards.
Find more details in this guide
15.11.2021 - Surveys can now be duplicated or updated via a CSV file
With the survey import surveys can be newly created, updated and recipients can be added and removed automatically.
Find more details in this guide
18.10.2021 - User rights are now managed on Employee page
We got a lot of Feedback to have only one page to manage all employees. In the future you can manage all rights and roles under employees.
Read this guide and save valuable time.
13.10.2021 - New Integration page + Personio API
We know what a hassle it is to keep multiple tools up to date, track status changes of your employees in your main HR-Management Solution and also keep them updated in the Honestly Application.
We constantly add new integrations and we are super happy to receive feedback from you about the next solution we should integrate with.
Read this guide and save valuable time.
01.09.2021 - New SSO Interface
Now it is possible for the role Admin to configure and change the SSO options on is`s own.
Read this guide and save valuable time.
13.08.2021 - Archive surveys
You may come to a point where you have a long list of surveys in your account, only a handful of which you are currently actively using. In order to tidy the space without losing any of the data you have collected, you can archive the surveys.
Read this guide and save valuable time.
08.07.2021 - New Role Report viewer
Report viewer: Can only see isolated results and are not allowed to export any Data ( dashboard is assigned to them, they have permissions on the employee group)
Read this guide and save valuable time.
14.06.2021 - Dashboard Translation
With the new dashboard and chart translation feature, you can now quickly and easily assign dashboard and chart titles and translate existing titles into other languages.
Read this guide and save valuable time.
15.03.2021 - Hide Questions in a Survey
Imagine the following scenario. You've set up a rather general recurring survey while also being in the process of enabling the workforce to work from home.

Now, after having successfully completed the transition to remote work, you would like to keep the survey going, whereas the questions about working remotely have become irrelevant for the moment.

Instead of creating a new survey omitting the irrelevant questions, you can now simply hide the questions you would like to exclude for the next survey cycle and keep everything else the same.

Click here and check out how it works.
15.03.2021 - Survey Details: Welcome and Goodbye Message
You can now activate a welcome screen for custom surveys. Utilize the message displayed there to set the proper context for the survey and help your employees get in the right mindset to give relevant answers that yield the most insight.

Further, you can adjust the message that is shown to respondents when they completed a survey. Personalize a thank you message for participating, and let 'em know you mean it!

We'll get you started with this article.
15.03.2021 - Customise Visibility of Questions
At times, a few questions in a globally sent out survey are only relevant to one or two groups of employees. In such cases, you can now define by employee group whether an individual question is shown to the employee or not.

Find out how it's done right here.
15.03.2021 - Open Answer to Open Choice Questions
In single- or multi-select questions, sometimes the most-fitting answer is just not available. Now, you can enable an open answer option to those questions. This way, respondents can use their own words to give the answer they find most appropriate to a given question.

Read this and allow open answers now.
03.02.2021 - Digital Onboarding
It's been a while since your last survey and you'd like to catch up on how to use Honestly properly? You aim to use Honestly in a more agile way, but are worried about the effort involved in onboarding more users?

We've developed a digital guide that will help you (and your colleagues) send your first survey with ease. Click here to get to the onboarding.


09.12.2020 - Roadmap 2021
We have created a Roadmap '21 for you.
Learn more in this presentation.
01.12.2020 - Survey Participation Rate
You can now create Graphs that display a survey's participation rate.
Check out the full article.
25.11.2020 - New Exports
A dashboard of the Honestly Platform can now be exported into 3 different formats: Powerpoint (pptx), Excel (xlsx) and PDF

Find out in the main article how easy it is.
09.11.2020 - Honestly "Engage Everyone"
Honestly offers several opportunities to participate in different surveys. Now we also offer employees without an e-mail address the possibility to participate in surveys using individual, but anonymized codes or information.

Find out in the main article how you can survey all employees using QR code links.
09.11.2020 - Internal Benchmarks
Generally, it can make sense to compare employees not only on a company level but also in a more granular way, for example on a location level.

For this purpose, a new chart setting for heatmap and score charts is now available, allowing users to specify the internal comparison benchmark when configuring the chart. This is especially useful for accounts with many different users.
Check out the main article here.
09.11.2020 - Honestly's Anonymity
Maintaining the anonymity of the participating employees is essential to allow open feedback.
Restrictions in the filter method and function, ensure that anonymity is maintained even with many and detailed filters.
The anonymity limit is ensured by the functionality of the evaluation software, especially by the filters, and is not done manually. The anonymity limit for the evaluation is five answers per question and can only be viewed from this value.

Check out the main article here.
31.07.2020 Auto Import of Your Employee Data Field using CSV on SFTP now has a Health Check in place.
Example:
You have 3000 employees in your system. The threshold of your import is set to 10% when you are uploading a CSV with 1300 lines. As 1300 is smaller than 2700 (3000 - 10%), the import is not processed. Instead, an E-mail is sent to all admins, to support@ and to product@honestly.com.
You can change the file and reupload a new one with 3200 employees. This is normally triggered, as it is less than 10% larger than the previous.

Once the upload is not within your range, you will receive the following E-mail:

"Dear Honestly Customer,
you are receiving this E-mail because you are an Admin of (accountname's) Honestly-System.
We hereby inform you, that the most recent import of the new employee base was not processed, as it failed the internal validation for integrity.
Your account right now holds (number employees) employees and the most recent file included number lines entries. This is an unexpectedly high difference which is why we stopped the import from processing.

Please consult internally about this issue. If the file was correct from your side, please connect with your customer success agent to change the threshold of processing.
If the file was incorrect from your side, you can fix the issue and reupload. The automatic import Is still active and will process as normal.
You will receive this E-mail again if the error persists.
Thanks,
The Honestly Team"
31.07.2020 New Languages
We added 9 languages to our system:
Scottish
Polish
Welsh
Turkish
Danish
Chinese
Estonia
Latvian
Lithuanian