We know what a hassle it is to keep multiple tools up to date, track status changes of your employees in your main HR-Management Solution and also keep them updated in the Honestly Application.
We constantly add new integrations and we are super happy to receive feedback from you about the next solution we should integrate with.
How to connect
To sync your employee data with Honestly, we need to connect to your Personio account via the Employee Data API.
To do this, you simply need to navigate to the "Menu" in our tool and select the "Integration" item.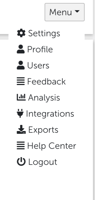 You will be redirected to the integration page in the next step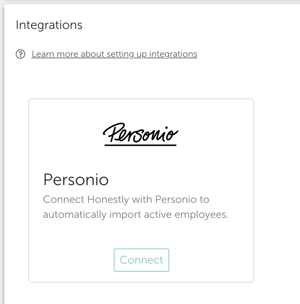 Step 1: Get API credentials


The credentials for the employee data API and your company ID can both be found under Settings > API > Credentials in your Personio account.
You can download your API credentials from there. Click on Download, and the relevant text document will open within seconds.
Once you have received your credentials the next steps are very simple, just click Connect on the integration page and you will be redirected to the login page
enter your Personio Client ID + Secret Key here.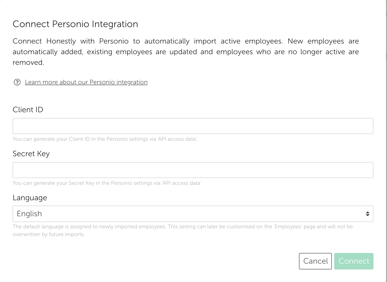 After successful connection, our system will now synchronize with your Personio account.
However, please be sure to follow step 2 before completing the synchronization.
If you request API credentials again, your current API credentials will be invalidated and your connection to Honestly will stop working if already set-up.
Step 2: Whitelist employee attributes
You need to define individual attributes that you would like to transmit via API.
To do so, navigate to the tab Settings > API > Access > Edit and select any number of attributes from the list of options.
You can fill in as much data as you like. Out of the box, your Honestly Integration will work on these fields:

Fields marked with * are mandatory to whitelist.
Fields marked with ° are recommended to have an accurate list of active employees only. This excludes employees on leave, those who left, or those who have not started yet.
First name *

Last name *

Email *

Status °

Hire date °

Termination date °

Gender

Department

Employment type

Supervisor

Sub company

Office
If there are more fields that you would like to sync in order to filter for them in Honestly Engage, let us know.
The fields Status and Supervisor will not be displayed in our System.
The field Status is there to upload or delete a new or old employee.
The field Supervisor is there to calculate which person can see which values.
How it works
After the initial setup, your employee list from Personio is synced with your Honestly Account.
For the first sync, we match employee data via email-address. From then on, we use Personio's ID, to also make email changes possible.
Employees who are set up in Personio, but didn't start yet, will not be added to the Honestly Account (Hire Date must be whitelisted for this)
If employees are not sent by the Personio API anymore (e.g. when they leave the company temporarily or permanently), their account in Honestly is also deleted (Termination Date and Status must be whitelisted for this). Feedbacks stay stored.
Employees manually added via the Honestly Account Management Page, whose Email was never sent via the API, will be excluded from the automatic update process.
The sync runs every 12 hours and updates all employees and group information that you provide via API and it`s very important to create the employee attributes on the Honestly employee site bevor the first upload.
The information given in Personio is leading in the case of data conflict.
E.g. when a department is called "Information Technology" in Honestly, and "IT" in Personio, it will be called "IT" in both systems after the initial sync.
This is treated in Honestly Engage as if people changed departments then.
Reach out to us, if you have such conflicts and want to keep the Personio data, but also consistency in Honestly Engage and we can change the department names manually for you so it stays consistent.