Perhaps our app has informed you that you are offline or you haven't received feedback from one location for a long time. This guide will help get your android device back online quickly.
It is best to remove the tablet from the terminal first so you can get to all the buttons.

1) Start with a reboot:
Press and hold the On/Off button until "Power Off or Restart" appears on the screen. Here you select "Restart".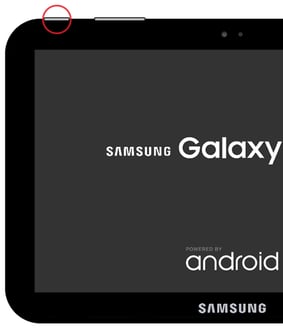 2) If you get the error message: "There seems to be a problem with your internet connection" in our Terminal app (the survey app), please click on "last version", otherwise the app will keep trying to open while you are working in the settings.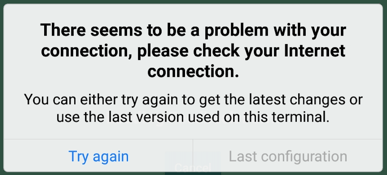 3) Then connect the device to a network:

Close the Terminal App (survey app) with your management code (found in the Honestly account under "Menu --> Terminals") in the hidden menu (hold your finger at the top of the screen and the "Terminal Service Menu" will appear: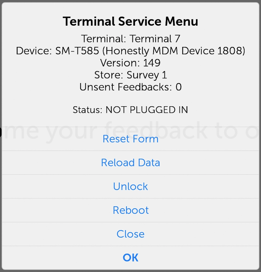 Go to the settings and click on "Connections" - "Mobile networks" - "Network operators" - "Search networks".
You may have to turn off data roaming first to do this - please don't forget to turn it on again afterwards!

Select the first network listed. Now you have to see how good the reception is by checking the filled bars at the top of the screen. For example, if only 2 bars are filled in, try another network to find out which one is the strongest.



Also, please check the following settings:
"Connections" - "Data usage" - "Mobile data" = ON
"Connections" - "Mobile networks" - "Data roaming" = ON
"Connections" - "Mobile networks" - "Access point names" = m2mde.telefonica.com
Close the settings by pressing the "Home Button" again.

In the "Internet" app, make sure the device is back online by going to "www.honestly.de" for example. Then close the app again by pressing the home button.

Open the "Terminal" app again and lock it via the "Terminal Service Menu".



If you do not see these 2 icons immediately, but instead those of many other apps, swipe the screen upwards from the bottom of the screen and a black screen with more apps will appear, select "Terminal".

Any feedbacks which were given when the device was offline will now be uploaded to your Honestly account, this may take a few minutes. You can see how many there are by checking the "Unsent feedbacks" part of the Terminal Service menu.